Packing for moving house can be stressful – here's how to do it right.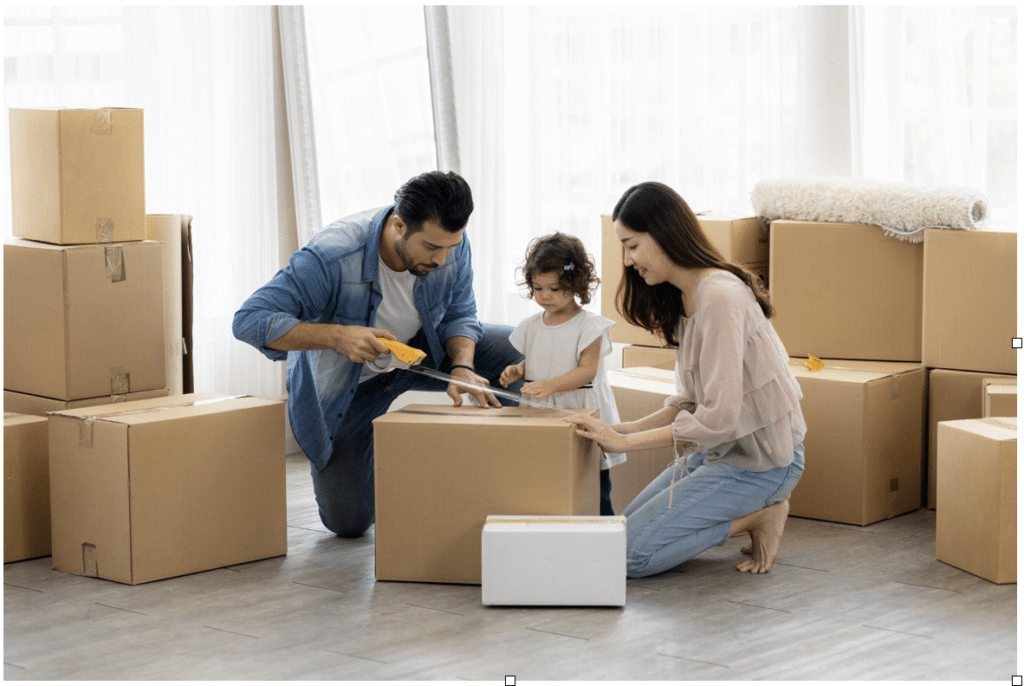 Moving house is an exciting time, whether you're moving to a new city or just down the road. But with this excitement typically comes a whole lot of stress – the realisation kicks in: you need to pack all of your belongings – where do you even begin?
This can seem daunting at first, especially if you've never moved home. But knowing how to pack when moving house is key, saving you time, stress, and energy.
So, with this in mind, this blog post will provide you with actionable tips on packing for moving house, covering everything from when you should start to methods of packing and more.
When you should start packing for moving house?
There is no general rule, although the sooner you start, the better.
Although, always wait until the sale has gone through (or the contract has been signed). The last thing you want is to pack up all of your belongings only to unpack them a few days later, thanks to a contract that fell through.
Packing for moving house will take longer than you think, so get started now. We promise, you won't regret it.
What packing supplies do you need?
Before you begin packing, you'll need to gather supplies.
You will need:
Small, medium, and large boxes
Packing tape
Bubble wrap
Old newspaper
A whiteboard pen or sharpie
Plastic bags
Plastic boxes
The amount of supplies you need depends on how much furniture and belongings you're taking with you.
If you're just fetching your belongings and no furniture, then you won't need as many supplies to move home.
You can ask supermarkets and other shops if they have a few extra boxes – if you catch them on delivery day, they'll certainly have a few spare.
How to start packing for moving house
Declutter before packing
Pack items and rooms you don't use often
Pack room by room (and label belongings)
Store and take inventory of valuables before moving
Bring a box or bag of essential belongings
Keep reading to find out more on each tip, helping your move go as successfully as possible.
Declutter before packing
Before any move, we recommend decluttering first.
There's no point bringing extra belongings that you no longer use, whether that's clothes, books, or old video games, when they're just going to sit in the loft, garage, or under the bed in your new home.
So, declutter each room before packing. You'll save packing space, feel a lot better for doing it, and you'll start off a lot more organised in your new home.
When decluttering, consider donating good quality items such as clothing, board games, video games, and books to charity shops. There's always someone out there who can make use of your old things, so don't throw everything away!
Pack items and rooms you don't use often
This tip may seem obvious, but you should pack items and rooms you don't use as often first.
For example, if you have an old study or garage, then packing these up first will be the least disruptive to your day to day life before the move.
As the days get closer, you can begin packing up other rooms. But leave your essentials until the night before – you're going to need them (we're talking laptops, televisions, and some cooking appliances).
Pack room by room (and label belongings)
As previously mentioned, when packing for moving house you should pack room by room.
This allows you to remain organised, and if you plan on using a removal service, the removal team can easily place your belongings in the right place.
Ensure to label boxes with what's in them and what room they should be placed. For example, a box could say, "books bedroom 1." You'd then go ahead and label bedroom one in your new house, making the move as flawless as possible.
Store and take inventory of valuables before moving
We suggest storing and taking inventory of valuables before moving.
Doing so ensures nothing goes missing during the move. Ideally, you should bring with you the most important valuables (think: documents and jewellery) and pack the less valuable belongings in regular boxes.
All valuables should be noted before moving, providing you peace of mind. You can keep track of these by printing an excel spreadsheet or by taking notes on your phone – whatever works for you!
Bring a box or bag of essential belongings
We all have essential belongings that we use daily, whether that's your laptop, toiletries, or a few items of clothing. You should pack these essentials in a separate bag or box.
We recommend taking these with you during the move – that way, you know where they are at all times.
Packing these separately ensures they don't get lost and provide little to no disruption to your routine, whether that's working from home or taking care of the kids.
Need a helping hand?
Packing for moving house can be stressful. But it doesn't have to be.
At the smart logistics, we can pack, disassemble, and reassemble furniture in your new home, guiding you through the entire process.
Unlike other house moving companies in London, we take care of the entire process. Less stress and more excitement means you can really enjoy your new home.
We provide Removal van hire and house moves in London and surrounding areas.
To find out more info on how we can help, or to get a quote, check out our house removals page.
Alternatively, if you have any questions about packing for moving house in London (and surrounding areas), contact us today – we're happy to help.